I absolutely love lightweight gauze tops. But so far I only own two of them, both of which I have shown you before. A white one that I received from
Stitch Fix
and previously styled with boyfriend jeans
HERE
and a coral one that I picked up at Old Navy and previously styled
HERE
and
HERE.
Now why do I love gauze tops? Because they provide coverage without the weight. They are cool and breathable. Gauze tops provide protection from the sun. They are also perfect for an event that requires modesty on a hot day. And for those of us who may not be comfortable showing a lot of skin in the summer because of our weight or sagging skin, they are a wonderful alternative to sleeveless tops.
On the day I wore this white gauze top in Florida it was hot, and the sun was intense. Looking back, I probably should have worn a hat, but I did have on my Sonia Kashuik tinted moisturizer with SPF, so I did not get burned. But unfortunately, both my son and son-in-law did get burned. We didn't realize until it was too late how intense the sun was that day.
I wore my gauze top with light denim shorts and white loafers. I carried a neutral cross body bag from J.C. Penney (old) because we were at a wetlands festival that day and I wanted to keep my hands free and my money close!
Because gauze tops are so sheer, you always have to wear a camisole underneath.
For jewelry, I chose a silver and blue bracelet, and a silver heart necklace (both old).
My white loafers my Dr. Scholls are several years old, but still look brand spanking new, so I just keep wearing them!
I absolutely love the embroidered and lace detail in this top. I should request another one in a different color in my Spring Fix! Or, I'll just keep my eye out for more.
I am happy to report that on this bright, sunny day in Florida I did not get burned because I was so well-covered. Yet, I also stayed cool and comfortable despite the fact that I'm wearing long sleeves.
Here are some other gauze tops I love.
I adore this yellow and white one from Kohls. And it's only $14.08!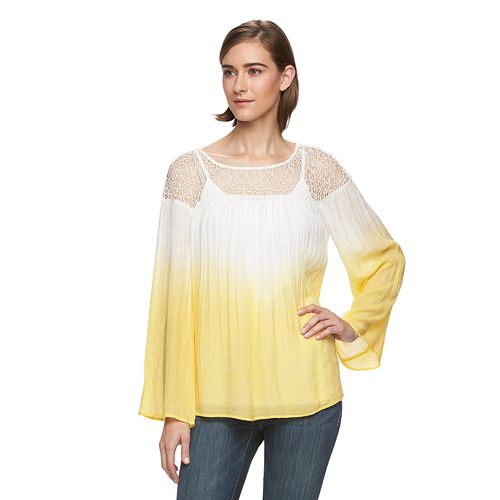 This gauze top is pricey at $54.95 from Oh My Gauze! but I love the asymmetrical cut with the cut out sleeves. So sexy, yet modest!
If boho isn't your thing, you can also find simple gauze button down style shirts like this one from Soft Surroundings.
And I love this simple gauze T-Shirt from J.C. Penney for only $14.99! I don't need more tops this color, but I see it's available in Navy too, so I might just pick one up on my next shopping trip!
So what about you? Have you tried wearing a gauze top on a hot and sunny day yet? What did you think?
Have a Great Day! Amy
Linking Up with these Fabulous Blogs
HERE.