Hello! Did you all watch the Oscars last night? I was so excited because this was the first time in SIX YEARS I was able to watch the Oscars live instead of just catching the highlights the day after on the news. I'm not a big fan of rewards shows, but the two I do want to watch and look forward to every year are the Academy Awards and the Tony's. I just love the red carpet interviews, the musical numbers, the movie clips, the "In Memoriam" segment, the fashion, and of course, all the unplanned drama that is twittered, and talked about on every news program the next day. And this year's Oscars did not leave us with a lack of things to talk about! I don't know what I had more fun with, watching the Oscars, or tweeting about it. I watched both my T.V. and my IPhone simultaneously laughing at all the tweets as they appeared on my feed. People are so clever and witty! I only wish I could come up with some of the funny lines people on twitter do.

There were many highlights for me on this years Oscars, but what really struck me was how the more mature women really shined not just in appearance, but in presence, experience, and dignity. First up, Melanie Griffith. Twittered exploded moments after Melanie and her daughter Dakota were interviewed on the red carpet. Dakota, looking beautiful in her hot red Saint Laurent dress came across to the American public as a spoiled teenager, whereas her mother, who has a lot more experience with interviews on the red carpet, handled the awkward situation very well. I did love seeing the mother/daughter duo attending the Oscars together. If only Dakota didn't ruin the moment with her immature behavior. But maturity, is something that just comes with getting older, and more experience.

Isn't Melanie gorgeous at 57? I love her dress! The silhouette is perfect for her and I love the neckline! She looks absolutely stunning. What a figure!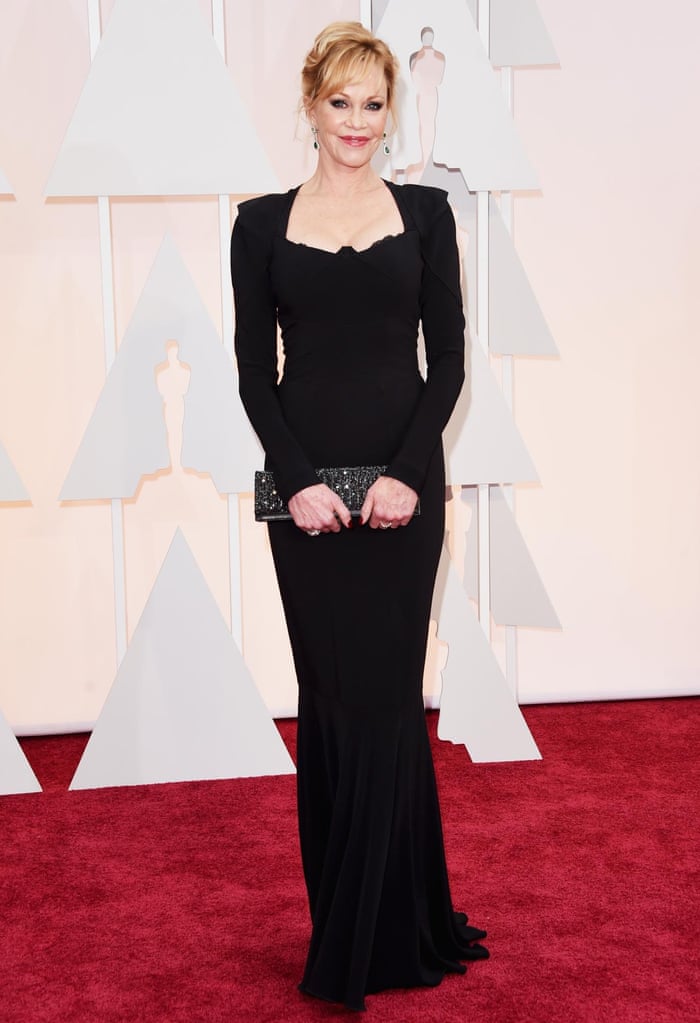 Speaking of stunning older women, 65 year old Meryl Streep never disappoints, in both what she wears and how she behaves. Everyone was blown away by her eloquent reading of the teleprompter as she introduced the "In Memoriam" segment of the Oscars. People tweeted that she should have won an Oscar just for that! Only Meryl Streep can move people to tears by reading a teleprompter. And I loved the custom made Lanvin skirt and suit ensemble that she wore. The high waist and belt of the skirt with the tuxedo jacket is very trendy, yet classy and elegant at the same time. And who, but Meryl Streep could pull off wearing a power suit at the Oscars? It takes confidence and experience to wear a unique outfit like this instead of a typical ball gown. Your amazing Meryl!

And while were on the topic of the confidence and experience of older women, "Wow Oprah!" This 61 year old has curves and she knows what to wear to flaunt them! I just love the fabric and lines of this dress. The buff rose color looks gorgeous on Oprah. Every detail on this dress flatters her figure. From the "X" layer of chiffon over the bodice and hips to the belted waist , and the sheer sleeves. Absolutely breath-taking!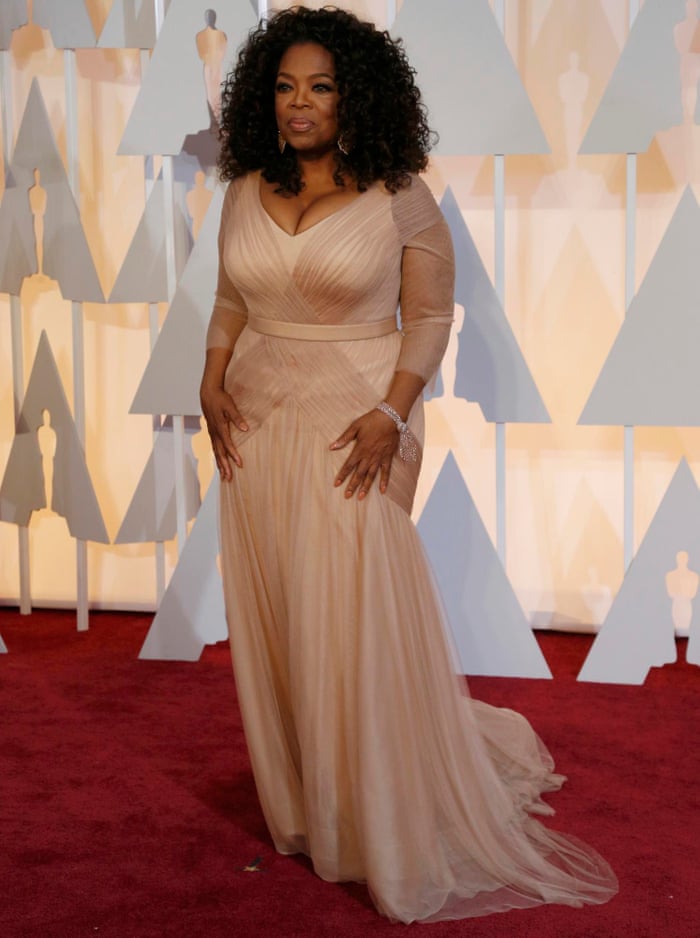 And now for the queen of the night, 79 year old Julie Andrews! When I saw this lovely lady take the stage, I thought 'My goodness, can she possibly become any more beautiful?' This woman not only does not age, she grows more beautiful with every passing year. How is this even possible? Perhaps, this is where inner beauty comes to play. This is an example of a woman who is beautiful inside and out, and her inner beauty just radiates out and emotionally affects everyone who sees her. I absolutely loved how she hugged and kissed Lady Gaga after her amazing medley of "The Sound of Music" songs. She was so genuine and so appreciative. There are many older artists who would resent younger talent and not encourage the next generation like Ms. Andrews did. She is the queen of grace and humility, and a beautiful soul that never stops touching the hearts of people no matter how old she gets.
Now I could go on and on with how impressed I was with the 'older women' of the Oscars. For example, I was awestruck with Best Actress Award Winner's Julianne Moore's Red Carpet appearance, and her acceptance speech. She is yet another example of a graceful, talented, humble, and wise woman. And I was also impressed with the middle-age group, the forty-somethings: Laura Dern, Cate Blanchett, and Jennifer Aniston. In fact, my absolutely, favorite dress of the night was worn by none other than 45 year old Jennifer Lopez! When the Oscars came back on after a commercial break and I saw Jennifer wearing this gown, my jaw dropped to the floor.
I loved the fullness and shape of this dress. She looked like Cinderella in a sea of tulle and sparkles! My only complaint about this dress is that it came across awkward at times due to it's mammoth volume. When Jennifer was presenting an award, her dress was so huge that her co-presenter couldn't even stand close enough to her to speak into the microphone. And the backstage camera caught some embarrassing footage of people stepping on her dress as she tried to exit the stage. But if she can just stand there, so we all can just stare and drool over her dress, then, it is perfect.
But I can't end this post without mentioning two of my favorite looks of the night, both worn by two women in their thirties. 33 year old Jennifer Hudson took my breath away in this lovely yellow gown. Wow! This woman has come a long way in her appearance from her American Idol debut! She has not only become increasingly more beautiful, but she has matured and grown in the way she carries and presents herself.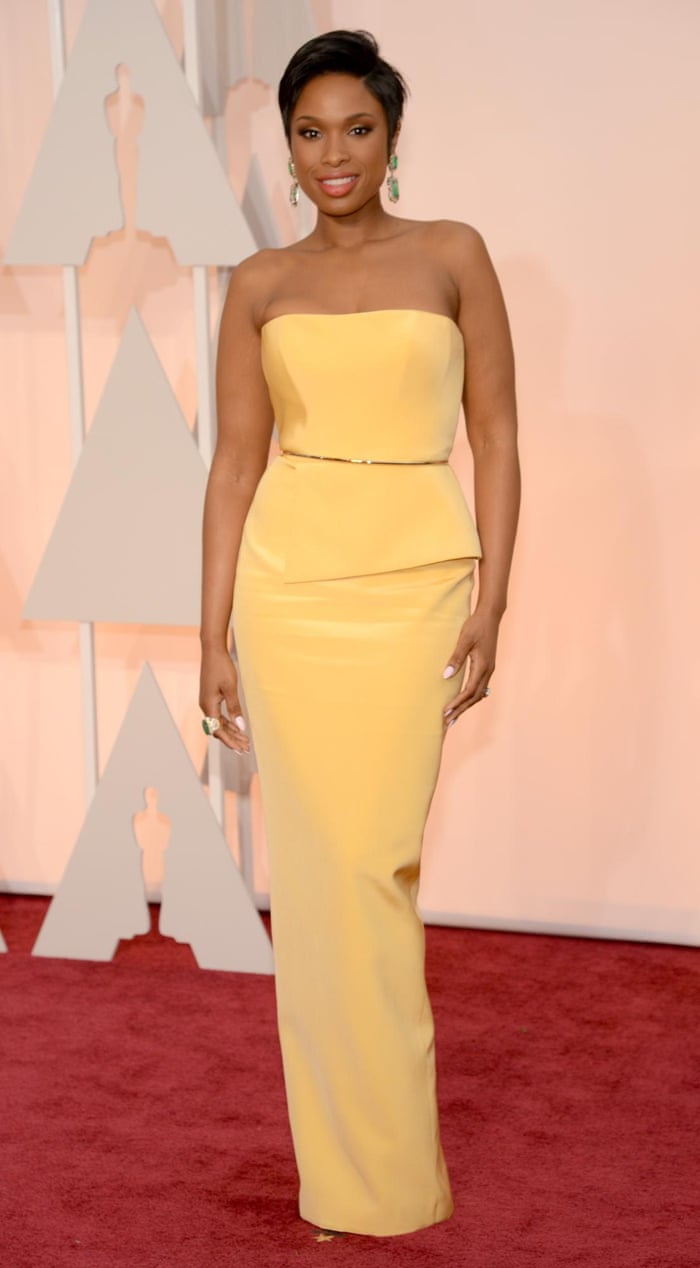 O.k. sorry, we have to look at this gown one more time. Oh! Such beauty!
Photo Credit
And finally, 31 year old Lupita Nyong's dress was one of the most talked about gown of the night and it definitely caught my attention. This lovely lady is know for her amazing red carpet looks, but this dress consisting of 6000 pearls was absolutely stunning.
Photo Credit
Talk about details! How gorgeous!

Now, I really didn't plan on falling in love with the gowns of women over the age of thirty. It just happened that they were the women that I felt not only looked the best on the Red Carpet, but also carried themselves well. They behaved in a professional manner carrying themselves with grace, dignity, and confidence. Traits, which usually only come age and experience.

So what about you, did you watch the Oscars? What were some of your favorite moments or dresses? I'd love to hear from you.
Have a great day! Amy