With Valentine's Day only a week away I thought I would spend this week's fashion posts show-casing two different Valentine Day Outfits. Today's fashion post is a Valentine Outfit for a Casual Date. On Friday I will show you a Valentine Outfit for a dressy date. Then I'll let you try and figure out which outfit I actually wore on Valentine's Day.
This whimsical heart top I purchased for Valentine's Day two seasons ago. The first time I wore it
HERE,
it was one of the coldest days of the year. I paired it with a jacket and thick scarf. It's a lightweight short sleeve top that I usually wear in summer. If you'd like to see a summer look, see this post
HERE.
Because it's both light weight and has short sleeves, if I want to wear it in the winter I have to wear a shirt or cardigan over it. I decided to try it this year with a chambray shirt, dark blue denim, dark brown boots, a blue neck tie, and my burgundy bag for a bit of color.
I'm so happy thin neck ties are in style this year, aren't you? I love scarves for they hide my aging neck and keep me warm, but I really don't like them if they are overly thick and bulky....I feel like I'm suffocating! Don't even get me started on what I think of those crazy, bulky blanket scarves. 😄
Even though this top is no longer available, you could create a similar look with any heart print top or Valentine graphic tee (see my options below)!
I was torn between wearing sneakers with this look or boots. I know sneakers would have looked better, but it's still too cold here in Wisconsin for sneakers and bare ankles.
And if you're wondering what the big smile is about in this next picture it's because I'm looking at my sweet kitten Jackson. I was posing right in front of our back door so I could run in and out of the house quickly as it was freezing as usual. Jackson was staring at me through the door watching me pose. He wanted to come out with us so badly, but I love him too much to let him out. We have way too many feral cats and other wild animals in our yard. I don't want him to get hurt.
This is a cute, casual Valentine outfit if you have a very laid back date. And if it's warm enough where you live already, you could probably skip the chambray shirt!
Here are some other fun heart shirts I found on the web!
This cute kitty one is from
Target
!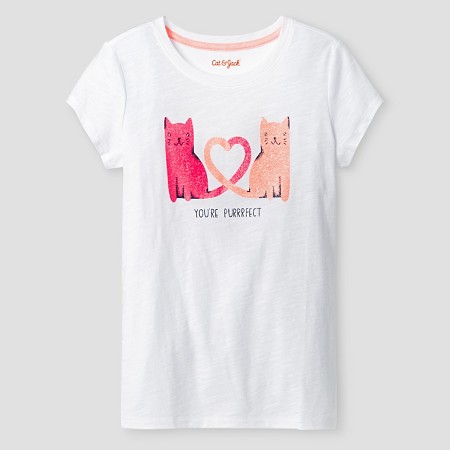 And if extra warmth is what you crave, I love this heart sweater from
Macy's!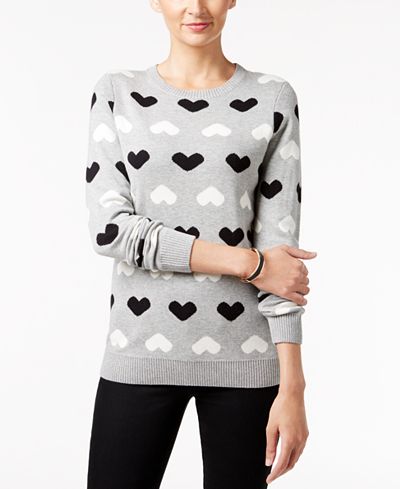 Have a Great Day! Amy
Linking Up with these Fabulous Blogs
HERE!
Save
Save